About Whale Watching in L.A.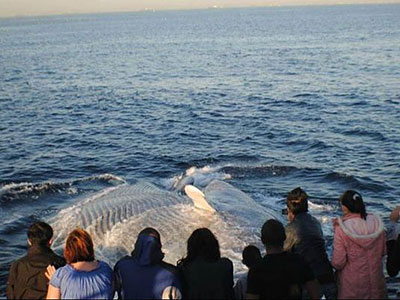 Harbor Breeze Cruises has been a leading whale watching and charter cruise company for well over two decades in greater Los Angeles and Orange County. Our highly trained Captains and tireless staff provide the most memorable whale and marine wildlife watching experiences that you and your family will cherish for many years to come. No other company even comes close to providing the care, safety and sheer thrills that we do!

Our lead Captain and pioneer, Dan Salas, founded Harbor Breeze Cruises way back in 1990. His passion for the ocean started when Dan was employed at the San Pedro docks as a young, 12 year old boy. Dan's love of the marine lifestyle only grew as he matured, which led him to pursue a tug boat captain position. After working as a tug boat captain for a decade, Dan set out to start on his own marine venture.

The company acquired its first boat in 1994 when it started offering whale watching and charter cruise tours to the public. Ever since then, Dan has worked feverishly to perfect his whale watching and charter cruise company and has acquired several more cruise and sightseeing boats. Our fleet of charter boats have been custom designed and modified to provide the most breathtaking harbor and whale watching experience.

Dan is renowned as the guru of whale and marine wildlife watching Captains in the entire State of California. His unmatched knowledge and experience has been passed on to our other Captains and staff, which has resulted in an ever-growing business that continues to thrive. Harbor Breeze Cruises provides the most whale watching tours in Los Angeles and Orange County.

You can have a close encounter with any of these marine mammals during our whale watching cruise:


Blue whales. Considered as the largest among whale species, an adult blue whale can weigh more than 190 tons and grow up to 100 feet. It is best to book a blue whale watching trip from mid-June to October.


Gray whales. The best season to watch this particular whale species is from January to April when they return to their feeding grounds. They also pass the coastline of California from October to December when they mate and calve in the warm lagoons of Mexico. Gray whales travel 10,000 miles every year, the longest migration of any animal species.


Fin whales. They swim fast and can hold their breath up to 45 minutes under water, making it difficult to spot them on open seas. But don't worry; fin whale sightings are common in the winter season. They also travel in pods so we can bring you close to these large marine mammals.


Killer whales. It is not uncommon to see killer whales during whale migration. Majority of the sightings occur in the months of November and December, so it's best to schedule your trip during this season.


Pacific white-sided dolphins. The playful behavior of these dolphins always adds excitement and fun to any sightseeing cruise. They love to ride the bow waves of our boats and showcase their acrobatic skills.


Common dolphins. A whale watching cruise will not be complete without spotting common dolphins. This dark gray-to-black colored dolphin can be seen all year round along the entire California coast.


Dial 310-547-9916 now to inquire about our schedules and rates.