Whale Watching in Redondo Beach, CA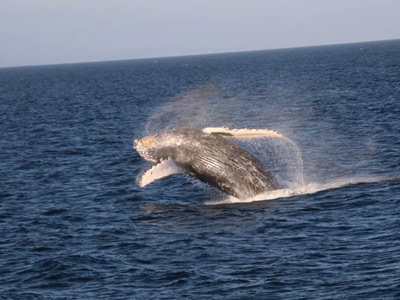 Redondo Beach, CA, is positioned cozily along the Southern California coastline. It is renowned for its picturesque vistas, sun-kissed shores, and a natural spectacle that leaves visitors in awe – whale watching. Here at Harbor Breeze Cruises, we offer some of the finest whale-watching tours in the region, with this beach as our splendid backdrop.

Whale Watching in LA has been the premier whale-watching and charter cruise company in greater Los Angeles and Orange County for over two decades. Our expert Captains and dedicated team deliver unforgettable marine wildlife experiences that will remain cherished memories for years. We are unrivaled in our commitment to safety, care, and the sheer excitement we provide. Join us for an exceptional adventure you won't find elsewhere.


What Makes This Place Special?
This place is unique among California's coastal destinations, not just because of its beautiful beaches. It is one the most sought-after whale viewing locations in the region because:


Scenic Beauty – It boasts breathtaking coastal scenery, including its iconic pier and a lively harbor. The tranquil ambiance of the area provides an idyllic setting for whale watching, offering a blend of natural beauty and man-made charm.


Marine Diversity - The waters abound with marine life, making it a thriving ecosystem. In addition to whales, you can spot dolphins, sea lions, and various seabirds, creating an immersive maritime experience.


Year-Round Whale Watching – The place offers year-round opportunities for whale watching. Depending on the season, you may witness gray whales, blue whales, humpback whales, and even orcas, ensuring a diverse and ever-changing spectacle.


Distinguishing Ourselves in The Whale-Watching Industry
We are committed to providing unparalleled experiences for our customers. These things distinguish us in the whale-watching industry:


Expertise and Passion - Our captains and crew are professionals but passionate experts in marine life. Their extensive knowledge and dedication to marine conservation ensure a memorable and educational experience.


Naturalist Guides - Our tour guides are seasoned naturalists who share their deep understanding of marine ecosystems, animal behaviors, and conservation efforts. They enrich your tour with fascinating insights that go beyond surface-level information.


Modern, Comfortable Vessels - We believe that comfort and safety are paramount. Our vessels have the latest technology, spacious viewing areas, comfortable seating, and onboard facilities to ensure a smooth and enjoyable journey.


Our experienced staff knows the local waters intimately. We navigate you to the points where the opportunities to view whales are very high. You can trust us to provide an up-close and personal encounter with these majestic creatures.


Convenient Booking for Affordable Tours
We make the booking process hassle-free. And all it takes is a few clicks to complete your booking online. We understand the value of your time and strive to make your experience seamless from start to finish.

We are committed to offering competitive tour rates without compromising the quality of your adventure. You don't have to break the bank to embark on a memorable whale-watching journey with us. We will make it happen if you're ready for an extraordinary whale-watching experience.

For more information about our tours, availability, and pricing, please don't hesitate to contact us. Our helpful and friendly team is here to provide you with all the necessary information. We are eager to assist you and ensure an exceptional whale-watching experience in Redondo Beach, CA. For information, please call Whale Watching in LA at 310-547-9916. You can also write to us using this Online Form, and one of our team members will contact you soon.