Whale Watching in San Diego, CA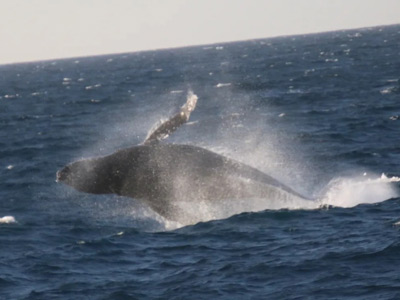 Experience the enchantment of whale watching in San Diego, CA. At Whale Watching in LA, our cruises unveil the splendor of the Pacific Ocean, where you can witness the grace of whales and the playfulness of dolphins in their natural habitat. Our ultra-modern vessels are set against the stunning backdrop of LA's coastline and ensure comfort and eco-consciousness.


Superior Vessels for Unmatched Safety and Comfort
We offer the best vessels, ensuring an exceptional balance of safety, comfort, and overall excellence. The quality of our catamarans and boats underscores our commitment to providing an unparalleled maritime experience:


Advanced Technology - Our vessels are equipped with the latest navigational and safety technology, guaranteeing a secure journey for all passengers.


Spacious Comfort - We prioritize your comfort with ample seating, open deck spaces, and modern conveniences, ensuring your journey is relaxing and enjoyable.


Environmental Responsibility - Our state-of-the-art vessels are designed with eco-consciousness, featuring low-emission engines that minimize the impact on the marine environment.


Exceptional Stability - Our vessels ensure a smooth and steady ride with advanced stabilizing features, reducing the likelihood of motion discomfort.


Expert Crew - Our experienced crew is dedicated to your safety and enjoyment, with ongoing training to handle any situation that may arise.


Accessibility - We offer vessels accessible to all passengers, including those with mobility challenges, ensuring everyone can share in the adventure.


When you choose a whale-watching excursion with us, you can be confident that our vessels are meticulously maintained, setting the stage for an unforgettable and worry-free experience on the local waters.


Marine Experts to Boost Your Whale-Watching Experience
Each whale-watching vessel is staffed with a certified marine expert, guaranteeing a remarkable marine mammal encounter and an educational experience. You'll gain valuable insights into diverse whale species and other sea creatures encountered during your journey.

We're committed to enriching your adventure by ensuring affordability and a deeper appreciation for the ocean's wonders. Your safety, comfort, and satisfaction are at the core of our maritime philosophy, and we invite you to experience it for yourself.


Diverse Options for Every Adventurer
At Whale Watching in LA, we offer various cruise options that cater to the desires and preferences of every adventurer. Our cruises are carefully crafted to ensure you get the most out of your time on the water, and each experience is designed to be distinct and memorable.


Whale Watching - Join this exciting journey to witness the incredible marine giants that grace the waters off Los Angeles. Our whale-watching cruises provide a close encounter with various species, from the majestic Gray Whales during their annual migration to playful Dolphins and awe-inspiring Orcas. With marine mammal experts on board, you'll gain deep insights into their behavior.


Sunset Cruises - For those who prefer the enchantment of twilight, our Sunset Cruises provide the perfect setting. The beautiful Southern California coast bathed in the warm glow of the setting sun is a sight to behold. It's an ideal choice for a romantic evening or a tranquil escape.


Private Charters - Tailor your maritime adventure with our Private Charters. It's perfect for weddings, unique outings with friends and family, or a corporate party. We can curate a private cruise to match your specific needs. Integrate a whale-watching excursion to make this an extra-special experience.


Educational Programs - Our whale watching tours aren't just about fun; we're also passionate about education. Our educational programs provide an engaging learning experience, making these excursions perfect for school trips, nature enthusiasts, and those interested in marine conservation.


No matter which cruise option you choose, you can trust that we will provide a unique, memorable, and educational experience.


Convenient Online Booking
Explore our website for a deep dive into captivating whale-watching. Unearth extensive details, schedules, and booking options, setting the stage for an unforgettable marine journey off Los Angeles' coast.

Seize the moment and reserve your whale watching cruises in San Diego, CA, adventure today, embarking on an enthralling encounter with these majestic creatures in their natural realm. For inquiries, connect with Whale Watching in LA at 310-547-9916 or submit your questions through our Online Form, ensuring a speedy response.