Whale Watching in Orange County, CA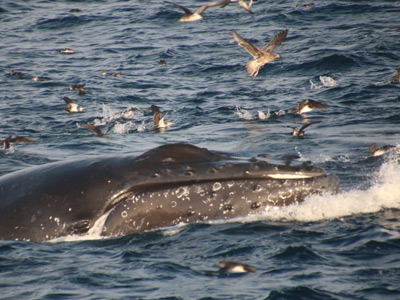 Whale watching in Los Angeles has surged in popularity over recent years, becoming a beloved coastal pastime. The allure of witnessing these majestic marine giants in their natural habitat is a powerful draw. Whale Watching in LA is Southern California's preferred whale-watching company.

We are the operators to call if you are looking for the best whale watching in Orange County, CA. We provide you with the best experience, capitalizing on the region's prime location along the migratory routes of various whale species. The family-friendly nature of our excursions and the educational aspect, with knowledgeable guides, enhances the experience, further fueling the trend.

Many locals and tourists embark on these adventures with us, strengthening the connection between humans and the ocean's magnificent creatures.

Choose a captivating journey with us, where we offer an unparalleled whale-watching experience in Southern California. Our dedicated team, including courteous and experienced crew members, and the guidance of knowledgeable educators from the renowned Pacific Aquarium ensures an exciting adventure as we search for awe-inspiring marine life.


Cutting-Edge Vessels
Our state-of-the-art vessels exemplify our commitment to environmental responsibility. The vessels are the newest and most eco-friendly in the region. These luxury catamarans are custom-built to provide an exceptional viewing experience, boasting stadium seating that ensures everyone has an unobstructed view of the marine wonders.

Our engines' ultra-quiet, low-emission engines set our whale watching vessels apart, guaranteeing that the marine environment and the creatures it hosts are not disturbed/harmed during our cruises.


Expertise and Experience in Whale Watching Tours
Our professional staff and Captains bring decades of experience to the table. They possess an intimate understanding of the local marine ecosystem, allowing us to locate pods of ocean critters with remarkable precision. Our cruises have the potential to reveal a mesmerizing array of marine life, including:
Dolphins
Harbor Seals
Blue Whales
Humpback Whales
Gray Whales
Fin Whales
Orca Whales
And more
Our Cruise Options
One of our most sought-after experiences is the Gray Whale and Dolphin Cruise. This tour is a fantastic opportunity to witness the annual migration of Gray Whales, a natural wonder that draws visitors from around the world. Our marine mammal educators from the Aquarium of the Pacific enrich the journey by providing invaluable insights into the behavior and biology of these magnificent creatures.

As we cruise through the pristine waters off Southern California, you can observe the graceful Gray Whales as they navigate their migratory routes, often accompanied by playful Dolphins. This truly unforgettable experience combines education, adventure, and the awe of the natural world.

Streamlined from initiation to culmination, we prioritize your whale-watching venture's seamlessness. Our user-friendly online booking system lets you quickly secure your spot on our tours. We are unwavering in our commitment to providing reasonably priced tour rates, guaranteeing that your adventure's quality remains uncompromised.


Book Your Whale-Watching Experience Today!
Seize the chance to witness these magnificent creatures in their native realm. Choose our whale-watching cruise and relish an enduring sojourn amidst marine marvels. Immerse yourself in an experience that evokes lasting memories and deepens your reverence for the ocean's magnificence.

Discover more about our captivating whale-watching in Orange County, CA, by exploring our website, where you'll find detailed information, schedules, and booking options. Join us for an unforgettable journey into the mesmerizing world of marine life off the coast of Los Angeles.

Book your adventure today and embark on an exciting encounter with these majestic creatures in their natural habitat. For inquiries, contact Whale Watching in LA at 310-547-9916 or submit your query via our Online Form, and expect a prompt response.