WHALE WATCHING TESTIMONIALS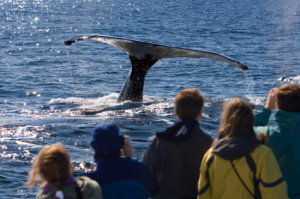 "IT WAS ABSOLUTELY AMAZING…"
A LIFETIME OCEAN WILDLIFE EXPERIENCE
We're so pleased to be able to extend this lifetime experience to all of our guests. We welcome feedback on our tours to be sent to harborbreezecruises@gmail.com.  The following are comments from some of our guests:
We had so much fun on Saturday. You guys run a great operation. My daughters had so much fun, although they didn't see a mermaid they were very happy to see the whales and dolphins!!

Thank you!
Nilda Parrado Langston
We had a wonderful whale trip yesterday. The staff of Harbor Breeze and the Aquarium were very helpful and fun. My group was more than happy with the experience. The super pod of dolphins and the blue whales helped! And.... I'm just reading Facebook and seeing the posts from my members recommending your trips "as the best". Thank you for all your help with our group. As I tell them, "Let's have fun". We are looking forward to next year's grey whale season. We had such a good time. Again!!
Cheryl B.
Thanks again for the trip on Sunday. We had 79 people attend. We saw a blue whale. Everyone was happy! I hope to see you again next year. 
Tony Corallo!
Amber – I am late with a big "Thank You" for Whale Watching – my son/grandson and myself had a really great time and saw a lot of dolphins , could NOT believe how many dolphins we saw, and whales. One whale came up at the bow of the boat and exhaled – my son got a lot of pictures. So thank you so much – we had a great time and Scott was great. Take care! 
Pauline Taylor 
Sales Coordinator 
Urban Waterfront Playground
Everyone had a great time and the boat and the staff and whales were great! So much good will and fun all around! We'll do it again in the summer for the Blue Whales. Thanks for all your help. 
Cheryl 
One of the BEST days of my LIFE was spent on your boat on 2/8/15. The Capt. took us right to the pod of 5 Orcas/Killer whales. It was the most amazing experience. I cannot even to begin to express how truly special it was to watch these incredible mammals play, hunt, feed, teach and bond with each other. They put on quite a show for us with their jumps, twists, tale flapping and more. The Capt. and staff were extremely careful and respectful when approaching the whales, professional, clean, safe, etc. The very best company to choose for SO Cal whale watching! I LOVED THIS TRIP! 
Abbie Jones 
Digital Learning Product Manager 
The Nielsen Company 
Hello, My name is Lisa Covington. 
I'm writing in hopes that the management will see this email. I wanted to say that I have been on your whale watch many times and it is great. But on Feb 8 th I went on the whale watch and it has always been my dream to see orcas in the wild. Top thing on my bucket list in fact. Dan was on the boat this day and he and his crew fulfilled that dream! They did not stop until it happened! They knew how important it was to me!They went above and beyond and I was so grateful! They were so excited for me having that happen and I just wanted to tell who ever runs this place how awesome the crew and Dan was for me! I will never forget it! My children are still talking about it. I will tell friends and will bringing my whole family there when they fly in. Thank you so much Dan and the crew. You guys are the best! 
Lisa Covington 
September 5, 2013 Captain Chris, Nicholas, Consuelo:
We were visiting family in LA this summer, and decided to go on your 12pm blue
whale watch the last Thursday in August. We really enjoyed the lengthy appearances
by Hook, Bubbles and Triangle, among others, as well as a pod of common dolphins
and their calves, and the whole trip was very nicely guided by a docent from the
aquarium (whose name escapes me – sorry). This may sound silly, but for us, the only
thing that was missing was the merchandise. After having such a lovely experience,
we really wanted to buy something like a t-shirt, cap or mug, or perhaps a calendar
of whale photos of the whales that are seen from your boats, as a souvenir.
Regardless, you can expect to see us again on our next trip out there!
Rachel Kluger
Madrid (Spain)
 "Just wanted to thank you for an awesome whale watch cruise on Monday with Captain Gary.  I had company in town from NJ who were getting out of the snow to cruise on the water and see grey whales, lots of seals and sea lions and great weather.  Everyone had a great time.  Thanks again."
Lucy Agins (United States Of America) – 3/28/12
"Thank you very much! This was the first time many of my students had ever been on a boat, much less in open water. Thanks to your crew."
Joy Mendenhall (United States Of America) – 12/14/12
"Mike and I had a WONDERFUL time on our whale watch trip last Friday. We saw hundreds of dolphins, and they were FANTASTIC! Wow!"
Anne Banaskavich (United States Of America) – 10/11/12
"Thanks to you, my visitors from Indiana, husband and I had the most incredible experience with an afternoon ofwhale watching.  Not only did we see common dolphins, bottle nose dolphins, a sea lion, a seal and a pair of gray whales(twirling), but we believe you also provided us with perfect weather out on the water.  We thank you again.  It was an amazing experience."
Jan Hextall (United States Of America) – 3/9/12
"We had a wonderful experience today with Capt. Gary and Mate Scott. They did a great job, the weather was fine. Capt Gary gave the kids on board an extra thrill by going very slow past the buoy with the Sea Lions on it."
Mr. and Mrs. Wizzard (United States Of America) – 3/2/12
"The girls and parents had a blast. Everything was well organized and I really appreciated that the captain was on time when departing and arriving back."
Ruby Vivas (United States Of America) – 3/1/12
"Day off from school, so took grandkids (17 & 8 yrs) on whale watch cruise.  Trip out a bit bumpy but whale sightings made it all worth it.  Boat was very stable.  Threatened rain did not materialize.  Had one fin whale surface just a few feet from boat.  Thrilling.  Skipper, and volunteer naturalists from Aquarium of the Pacific, did a fantastic job.  They timed all sightings so they could tell us when to be extra alert.  They knew exactly where to go to see the whales feed."
Jim and Fae Lumsden (United States Of America) – 2/16/12
"My two kids (age 8 and 6) and I went out whale watching on Monday.  We spent the morning at the aquarium, had a quick lunch and were able to head out on the noon tour.  We were so lucky to be able to see a group of fin whales who were feeding, so they came up for air every 3 minutes – once pretty close to our boat.  The kids were so excited to be looking for and seeing the spouts of water – they were bouncing out of their seats and begging me to catch the pictures.  I was thankful for the recommendation to take some motion sickness meds before the tour – the boat was quite bumpy on the way out, and the kids loved that too – it was a big roller coaster ride for them.  The aquarium representative on the boat was informative and was able to give us lots of great facts about whales and the ocean.  Overall it was a wonderful, unforgettable day!"
Amy Livingston (United States Of America) – 2/15/12
"Visit the aquarium then hop-on a whale watching cruise! That is how it should be done.
Our aquarium experience couldn't be perfect without the whale watching cruise, just as my wife and I had exited the Aquarium we hopped-on the cruise which felt like a complete experience, the cruise dock couldn't be more convenient location-wise as it is just by the aquarium building. The parking is very close to both the aquarium and Harbor Breeze Cruises dock and with their validation parking pricing is cheaper.
Our whale watching cruise experience was great! The guide, crew, cruise, views and sighting were all working together in harmony that left everyone on the cruise with wonderful memories, great impression and of course amazing pictures. We were very lucky to witness dolphins feeding experience! I had seen that on discovery channel before witch was great too but reality is way better than any HDTV or whatever is the newest TV screen nowadays.   "
Sam Mustafa (United States Of America) – 1/5/12
" We are members at the Long Beach Aquarium of the Pacific and see this whale watching tour right next to it. A naturalist from the Aquarium is onboard to tell you all kinds of stuff about the whales. I learned that some have baleen and some have teeth. And that the pod of dolphins who swam with our boat was larger than most. When we took the trip we saw several different types of whales. Dolphins chased our boat and played with us and each other. That was as amazing to me as the whales. The children on the trip really loved how close the dolphins got to us and how long they raced and dove around our boat. The boat had indoor and outdoor seating areas, so you can get fresh air or stay inside. They even had a snack bar and sodas and beer. The boat staff were all friendly. It was an awesome afternoon – educational and fun. "
Gabrielle  Weeks (United States Of America) – 10/15/11
" We had the most amazing time on the trip out yesterday! We had such a beautiful time! In addition to seeing the Blue Whales and Sea Lions, we had a group of no less than one hundred dolphins start playing around the boat and the wake… It was absolutely amazing! The crew aboard the ship was great, and so was the young lady that worked at the booth on the dock when we came up to get the tickets. She is really informative and great with all of the folks that were needing information. Just wanted to let you know what great people you have working for you, and please let them know. "
Jerry  Stoce (United States Of America) – 9/7/2011
"Yesterday was quite exciting as we spotted a dozen whales or so. I had no idea that a naturalist from the Aquarium is on hand to answer questions. "
Christine Danescu  Stoce (United States Of America) – 8/29/2011
" I am happy to share with you that yesterday my friend and I went on the Blue Whale Watching Cruise. It was quite exciting because we saw many Blue Whales and Dolphin. We saw the Whale tail fin 4 times. And it couldn't have been a more beautiful day. "
Valerie  Garcia (United States Of America) – 8/29/2011

" My wife and I learned about Harbor Breeze Cruises last month on Philip Friedman Outdoors and went whale watching. Had a huge time! It's time to do it again."
Will Ebersman  Otto (United States Of America) – 8/22/2011
" I recently took my friend on the blue whale watching tour by Harbor Breeze. What a wonderful experience! Whether you are a long time resident of Long Beach, like myself, or visiting Southern California. This trip is a must for everyone. The boat leaves from Dock 2 next to the Aquarium and in fact there re whale watch experts from the Aquarium who are guides on the tour they are very informative and gave us important tips for spotting blue whales. I thought I knew a lot about whales but I learned some new things that day! The crew of the boat was so friendly and helpful and the tour is a great family outing. There is plenty of seating both inside and outside. The boat ride is very smooth, so for those of you who may not think boat rides are not for you- give this a try. The ride was very pleasant and refreshing. So much so that when it started to look like we may not see a blue whale that day, my friend and I agreed it was just so nice to be out on the ocean, and feel the crisp breeze against your skin. Lucky no! One blue whale was spotted and we were able to watch 2 additional surfacing of the same whale. What a magnificent creature. Apparently, the sightings have been very regular this season, so don't wait! Take a tour with Harbor Breeze! "
Wendi  Otto (United States Of America) – 8/16/2011
"We had a great time and I am looking forward to doing it again. "
Shirley Patterson  Otto (United States Of America) – 8/16/2011
"Dear Captain and Crew, My family and I really enjoyed the three hour cruise to see the Blue Whales! We were on board on August 8, 2011 at 11:30 out of Long Beach. We all had a beautiful day off the coast of Long Beach! "
Eileen Terris  Otto (United States Of America) – 8/13/2011
" We were on board your boat 8-11-11. Your crew was excellent, knowledgeable & kind. It was the experience of a lifetime. The whales put on a fantastic display. It was the best whale watching trip we have ever been on. "
Ronnie & Felicia Garcia  Puhr (United States Of America) – 8/11/2011
"One of my fav things in the world is to go whale watching! Especially with Harbor Breeze! I will never forget when we saw the 11 Sperm Whales, amazing! "
Annie MacAuley  Otto (United States Of America) – 8/4/2011
" We did attend the whale watching tour on Sunday. I just wanted to let you know that we rely did enjoy it. It was beautiful and we could see two beautiful whales and one dolphin. All the best and we will recommend your company for sure! "
"I highly recommend this to anyone visiting your area, and spread the word around while standing in line at Disney. 5 STAR from Chi-Town (ok now Northern Illinois)!!!! AWESOME! Love you guys! "
Renee Keefe  Otto (United States Of America) – July 21, 2011
"What a fun local trip. We have been many times. "
Ellie Bingham from D&E Casino Services  Otto (United States Of America) – May 26, 2011
"Thank you very much for the great experience I had on the "Christopher." I had never been on a whale watch cruise, and although we did not see any whales that day the captain and crew made sure that we enjoyed our time at sea by showing and telling us about lots of other sealife. When the crew spotted a pod of dolphin and took us to see, I was absolutely blown away by the hundreds and hundreds of dolphin that were just as excited to see us as we were to see them it seemed. A well spent few hours, for sure. "
Adam B  Otto (United States Of America) – April 23, 2011

" I really enjoyed the cruise on the boat seeing the views and different kind of sea animals were awesome. The ride was smooth and pleasant the boat is very clean and well, kept up. The workers were respectable and helpful with anything we had to ask thanks again. "
Jessica Paiz  Puhr (United States Of America) – April 20, 2011
" We did attend the whale watching tour on Sunday. I just wanted to let you know that we rely did enjoy it. It was beautiful and we could see two beautiful whales and one dolphin. All the best and we will recommend your company for sure! "
Conny Jaeger  Puhr (United States Of America) – April 19, 2011
" Whale watching with Harbor Breeze Cruises we saw TONS of dolphins and a Pacific Grey Whale mother+calf pair. Only got one decent pic I got. They're slippery little suckers! Was a *fabulous* day – great boat and crew. "
Jenni Drew  Puhr (United States Of America) – March 6, 2011
"From the second I stepped foot on the whale watching cruise ship I was overcome with bliss. The sailing out into the sea was gorgeous in itself and the first sighting of the whale took my breath away. What a wonderful creature to see up close. We followed not one, but two whales, who rose so perfectly from the water like synchronized swimmers. The ooohs and aaahs echoed in the background as I gazed in amazement. What an amazing way to spend an afternoon! I'm already planning many more whale watching adventures for the future and I can't stop raving about it to all my friends!"
Annie May (Venice, CA)  Puhr (United States Of America) – February 5, 2011

" The whale watching trip was definitely the highlight of my recent trip to Long Beach. it was breathtaking to catch these huge animals on their long migration all the way from the Bering Sea. Having never seen a whale before up close and personal, it was quite a treat to encounter not one, but two of these majestic creatures. I've recommended this adventure to all of my sea loving friends in southern California. "
Chris, Trinidad  (United States Of America) – February 5, 2011
" The Whale Watching Cruise went GREAT. All 40 of our residents had a great time. We were all excited to see the Grey Whale, along with the 2 different species of dolphins, sea lions, and jelly fish. We had a few of our residents compliment your 2 "expert" staff on board. I enjoyed hearing facts I did not know about the different animals we saw. You can definitely expect us back next year. We always have a good time, especially when we actually get to see a whale, haha. See you next year, "
Roy Contreras City of Cerritos  (United States Of America) – January 19, 2011
"You were the best! We had a great time. I am glad we saw a whale and some dolphins. We hope to go again next year."
Mrs. Herbert  (United States Of America) – January 18, 2011
"I went on a Dolphin and Sea Life Cruise during the off whale watching season. I took my mother and my 2 year old son on the cruise. All three of us enjoyed it. The weather was chilly but beautiful, the 2 representatives from the Aquarium did a great job narrating the up and coming sea life. The captain and crew were very nice. I was hesitant to bring my 2 year old at first since I didn't know if he would enjoy 2.5 hours on a boat but he was delighted to be on a boat in the first place. The highlight of his day were the sea lions, dolphins and the birds flying next to the boat. The highlight of my day was watching my mom and son enjoy it. I highly recommend this cruise and will most likely do the Whale Watching cruise."
Caroline Ancheta  (United States Of America) – January 17, 2011
" This is the best whale watching cruise I have ever been on in my life. "
Brian  (United States Of America) – 7/7/2010
" I was on the trip on 4 April and we saw 5 whales – some of them came very close to the boat – very cool! "
This be  Vos (United States Of America) – 4/4/2010
" We were on the 8/19/09 cruise and it was amazing! 3 blue whales and lots of playful dolphins! 2 of the whales was a mom & baby. The crew was awesome too! We live in Arizona & will make this a yearly trip. "
Mark & Debi Adams (United States Of America) – 8/22/2009
" I was on the Feb. 11th trip and it was wonderful. I had tears in my eyes with the sighting of the first whale. It took my breath away. Thanks to the crew!!!!!!!"
debbie postlewaite (United States Of America) – 2/20/2009
" We had a blast! Thanks for taking the time to find those whales for us! We definitely recommend this cruise!! "
Ken Dinkel (United States Of America) – 1/20/2009
" My Girlfriend and I will be celebrating our THREE YEAR ANNIVERSARY with a Whale Watching Cruise on Feb. 21, 2009. Looking forward to another great time."
RICHARD TABERA (United States Of America) – 1/13/2009
" I was on August 29th!I recognized Blue whale was white! God bless you. "
Atsushi Yoshioka (JP) – 9/2/2008
" We saw a blue whale on July 26th! It was absolutely amazing. Thank you thank you thank you. "
Tracy & Adam Hasper (United States Of America) – 7/28/2008
" Hayden was here…. I LOVE WHALES! AND AUSSIES! "
Hayden Panettiere  (United States Of America) – 5/22/2008
" I was on the Whale Watching trip on March 11th and we saw 8 Killer Whales! I'll definitely be taking my family on another cruise soon! "
Ashley Johnson (United States Of America) – 3/15/2008
" My family had a wonderful trip and the experience "
Ramiro  Lucero (United States Of America) – 2/19/2008