Whale Watching in San Pedro, CA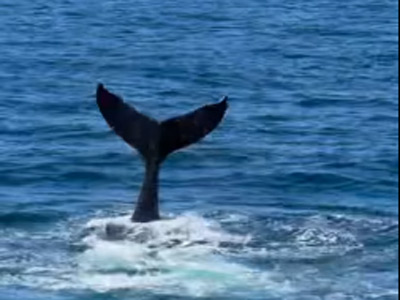 Experience the awe-inspiring world of marine giants and breathtaking ocean vistas with Whale Watching in LA. Nestled in this picturesque coastal town, our dedicated team invites you to enjoy an aquatic adventure like no other - whale watching in San Pedro, CA.

The city is located within Los Angeles and boasts a remarkable position along the migratory paths of diverse whale species. Our whale-watching cruises provide a front-row seat to this marine spectacle, where you'll have the opportunity to encounter various species of whales, dolphins, and other captivating sea creatures.

Explore the boundless beauty of the Pacific Ocean, witness the majesty of whales in their natural habitat, and forge memories that will last a lifetime. We assure you an experience like no other.


An Exceptional Whale-Watching Experience
We do everything possible to ensure you have an exceptional whale-watching cruise in these ways:


Each tour with us is designed to offer a seamless blend of education, adventure, and enchantment. Our experienced marine experts guide you through the tour, offering fascinating insights into the behavior, biology, and conservation efforts related to these magnificent creatures.


Our commitment to your comfort and safety is reflected in our state-of-the-art vessels. From expansive viewing decks to comfortable seating, every aspect of our vessels ensures an unforgettable journey. Additionally, our low-emission engines are environmentally conscious, minimizing the impact on the marine ecosystem while providing a smooth and serene cruise.


If you're a nature enthusiast, a family looking for a memorable outing, or a group of friends seeking adventure, we have cruise options tailored to your preferences. Choose from whale-watching, dolphin cruises, sunset cruises, private charters, or educational programs to create an experience that suits your needs.


For those with specific occasions in mind, our private charters offer a unique opportunity to plan a maritime adventure according to your desires. When it's a corporate event, a wedding celebration, or a special gathering, our team is here to tailor a memorable experience.


Beyond providing unforgettable encounters, we're passionate about education. Our educational programs are excellent for school trips, students, or those keen on gaining deeper insights into marine conservation.


How We Distinguish Ourselves in The Whale-Watching Industry in CA
Many aspects make us the preferred company in the local whale-watching space, such as:


Unrivaled Expertise - Our experienced marine experts are dedicated to enhancing your understanding of marine life, making every cruise educational and wonderful.


Spectacular Vessels - Our whale-watching vessels have expansive viewing decks, and environmentally responsible engines, ensuring a comfortable and eco-conscious journey.


Convenient Location - San Pedro's proximity to the whale migratory routes makes it an ideal starting point for your marine adventure.


Diverse Experiences - With a range of cruise options, including private charters and educational programs, we offer experiences for everyone.


Safety and Comfort - Your safety and satisfaction are paramount. Our professional crew and advanced technology are on board to ensure a secure and enjoyable experience.


Book Your Whale Watching Adventure
Take the chance to witness these majestic marine creatures in their natural habitat. Plan your adventure with Whale Watching in LA today and immerse yourself in the enchanting world of whales and marine wonders. Whether you're a new visitor to the area or have been here before, our cruises provide a unique opportunity to appreciate the beauty of the ocean and its remarkable inhabitants.

Join us for an adventure that will leave you with unforgettable memories and a profound admiration for the wonders of the sea. Book your tour now and let the adventure begin. For inquiries and bookings, contact Whale Watching in LA at 310-547-9916 or submit your questions via our Online Form, and our team will promptly assist you.