Whale Watching in Huntington Beach, CA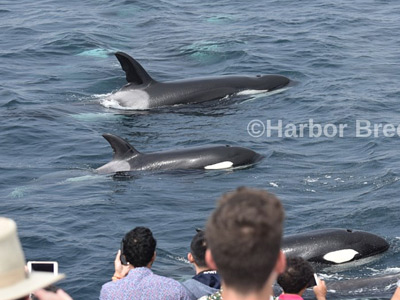 Nestled along the picturesque Southern California coastline, Huntington Beach offers sun-kissed shores, golden sands, and an enchanting marine spectacle that draws visitors worldwide: whale watching.

With its rich marine biodiversity and proximity to migratory routes, this beach is a prime destination for this awe-inspiring adventure. Here at Whale Watching in LA, we are your gateway to this unforgettable experience.


Why Whale Watching is a Popular Attraction in LA
This beach, often dubbed "Surf City, USA," has another title to boast about - it's one of the best places for whale watching on the West Coast. It's a popular attraction for many reasons:


Diverse Marine Life - The waters are full of diverse marine life, including whales, playful dolphins, and other fascinating sea creatures. It's like stepping into a real-life marine documentary.


Year-Round Excitement – The beach offers a year-round whale-watching experience. Whether you visit in the winter to witness the gray whale migration or in the summer to spot the colossal blue whales, there's always something incredible.


Idyllic Scenery - The breathtaking backdrop of the Pacific Ocean, the scenic coastline, and the vibrant marine life create a captivating setting for your whale-watching adventure. It's a photographer's paradise.


What You Can Expect with Our Whale Watching Tours
We offer not just whale-watching tours but unforgettable marine adventures. Here's why you'll get the best experience with us:


Our dedicated team of experienced captains and crew members is passionate about marine wildlife and well-versed in the art of whale watching. They ensure your safety while providing insights into the behavior and biology of these magnificent creatures. You'll gain a deeper appreciation for the ocean's wonders with their guidance.


Knowledge is the key to a meaningful whale-watching experience. Our tour guides are naturalists who bring their extensive knowledge of marine life to your journey. They'll share fascinating facts about whales, dolphins, and other aquatic species, making your tour visually stunning and intellectually enriching.


We have the latest advanced vessels for comfort and enjoyment. Our company understands that comfort and joy are paramount. We've equipped our vessels with the latest technology and amenities. Our state-of-the-art boats are designed for stability and offer comfortable seating, spacious viewing decks, and onboard facilities to ensure a smooth and pleasant journey.


Whale watching is more than just getting on a boat; it's about being at the right location and time. Our seasoned team knows these waters like the back of their hands. We take you to the best spots where the chances of viewing whales are higher. Our local expertise guarantees you a front-row seat to the marine spectacle.


Easy Online Booking and Affordable Tour Rates
We believe in making your whale sighting experience hassle-free from start to finish. That's why we offer an easy online booking process, allowing you to find a spot on our tours with just a few clicks. We are also committed to providing affordable tour rates without compromising on the quality of your adventure.

Don't miss the opportunity to witness these beautiful creatures in their natural habitat. Choose us for your Huntington Beach, CA, whale-watching adventure and enjoy an unforgettable experience in the world of whales and marine wonders.

Join us for an experience that will leave you with lasting memories and a deep appreciation for the beauty of the ocean. Book your tour now, and let the adventure begin! For information, please call Whale Watching in LA at 310-547-9916. You can also write to us using this Online Form, and we will contact you soon.