Whale Watching Los Angeles CA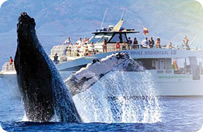 Los Angeles has vast beaches and what makes these and the bays even more special are the annual visitors- whales of different types are spotted in these waters each year as they migrate across the ocean and head to Mexico's seas as they are in warmer regions.
People from all over the US and the world come to these famed whale-watching spots. You can catch a glimpse of these sea creatures in their glory. While there are many tour operators, very few are as professional as well-organized as Whale Watching in LA. We are one of the most seasoned operators in this space, and our experienced captains and staff make the entire trip a truly pleasurable one.
The Best Season for Los Angeles Whale Watching
We conduct these Los Angeles whale watching cruises right through the year and ferry customers to the best spots. Our knowledgeable captains know in which areas of the bay you have the best chances of spotting whales, dolphins, Orcas, and more. We are here to help you with all the information you need about when you can visit the place and have the pleasure of watching these majestic creatures in the seas.
We conduct 2-2.5 hour tours in various areas of the bay. When you choose our tours, you have excellent chances of viewing Minke Whales, Fin whales, Humpback Whales and Orcas and even dolphins engaging in many fun activities. At times, they also interact with the boats and the people in them, which is genuinely thrilling.
Every trip and whale watching tour we conduct is exceptionally well-planned so that you have a unique and comfortable experience. The LA whale watching trip will have a certified marine mammal educator who will provide commentary and interesting facts about the various marine life that you might see as the boats cruise along the coast.
Whale Watching Tours Packages in Los Angeles, California
It's a common misconception that whale watching is an expensive activity. But if you look at our package and tour costs, you will find they are quite reasonably priced, with no hidden fees. It means you can have a fantastic whale watching experience at a price that won't break the bank.
The different types of sea creatures you can view on our cruises and tours include dolphins, Harbor seals, Orcas, Blue Whales, and more. We cater to families as well as larger groups like church groups, as well as corporates that want to book entire boats for their staff members. No matter what your requirement is, you are sure to have a superb time during our whale watching tours in Los Angeles.
Unique Whale Watching In Los Angeles
Our knowledgeable captains will share their knowledge about the local waters that come from the years they have spent on cruises and tours here. When you choose our tours, you have excellent chances of spotting and interacting with these massive creatures of the sea.
It is a truly unique and highly memorable experience, and we at Whale Watching in LA make it even more so. For any more information, feel free to contact us at this number- 310-547-9916. You can also use this Online Form to send us your inquiries about reservations, suggestions, or comments.