Whale Watching in Catalina Waters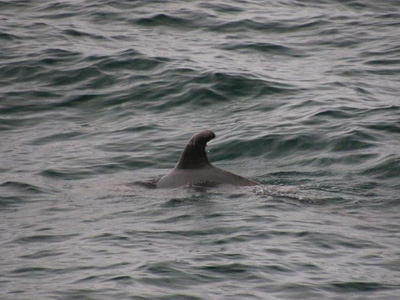 On this adventure you'll explore Santa Catalina's picturesque waters and have an up-close encounter with wildlife along the island's scenic coastline. Harbor Breeze Cruises has provided public seasonal whale watching cruises for the past 18 years. Our custom-built high-speed whale watching vessels can cover large ranges of water including Catalina Island. Our whale watching cruises include informative commentary provided by experienced staff and on most cruises also a biologist from the Aquarium of the Pacific. Therefore, during the ocean wildlife cruises you will have the opportunity to watch and learn about marine life which may include Humpback Whales, Blue Whales, Fin Whales, Common Dolphins, Bottlenose Dolphins, sharks, pelagic birds, Elephant Seals, and more – click here to read more about what this amazing experience can bring you!
Many people from all over the US and the world come to the famed whale-watching waters near Catalina Island. You too can catch a glimpse of these sea creatures in their glory. While there are many tour operators, very can guarantee few are as professional as well-organized as us. We are one of the most seasoned operators in this space, and our experienced captains and staff make the entire trip a truly pleasurable one.
Moreover, we offer comfortable accommodations aboard our ships which include lounge areas where you may enjoy a snack or drink provided by our galley service. The ships also have lavatories and expansive deck areas for viewing and photography.
The Best Whale Watching Season for Catalina Waters
We conduct ocean wildlife cruises right through the year, but we know the best time for whale watching is in spring and fall. Our knowledgeable captains know in which areas of the island you have the best chances of spotting whales, dolphins, orcas, and more. We are here to help you with all the information you need about when you can visit the place and have the pleasure of watching these majestic creatures in the seas.
Every trip and whale watching tour we conduct is exceptionally well-planned in order for you to have a unique and comfortable experience. The Catalina CA whale watching trip will have a certified marine mammal educator who will provide commentary and interesting facts about the various marine life you might spot as the boats cruise along the coast.
A Memorable Whale Watching Experience in Catalina Waters
Our whale watching services are specifically designed to offer our guests an intimate experience with the species that visit this area at various times of the year. Some of the whale species you can expect to see during our whale watching tours include:
Blue Whale. This is the largest animal to ever known to have lived on the planet. If you love the Blue Whale, the best months to book a tour with us is from May to November.
Orcas. They are also known as Killer Whales due to the animal's ability to take down large marine animals, such as sea lions and whales. According to marine experts, the best time to look for this type of dolphin is during December and January.
Dolphins. Close interaction with dolphins is always guaranteed in all sightseeing cruises in Catalina CA. You will see various dolphin species including Bottlenose, Common, Pacific White Sided, and Risso's. These playful marine mammals are known to chase after boats and ships in a playful manner, so you will surely find them adorable.
A Harbor Breeze Cruises whale watching trip is truly a memorable experience for all ages in and around Catalina CA waters Contact us for reservations or information. We'll be glad to hear from you and we'll provide your family or group with the most comprehensive and informative whale watching cruise available.