COMMON DOLPHINS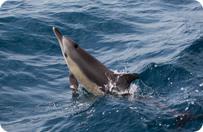 Info: When Dolphin Watching in Los Angeles the Common Dolphin can often be seen jumping and wake riding our boats. There are two types of Common Dolphins, the short beaked and long beaked. Common dolphins are noted by their intricate coloring. From head to tail, their color ranges from gray forming a pattern of a V below their dorsal fin. Their sides are gray below the dorsal fin and a beige color from the dorsal to head and the belly is white. Short beaked and long beaked common dolphins can be differentiated by their foreheads. Short beaked common dolphins have a rounder forehead that meets their beak at a sharper angle while the long beaked common dolphin has a thinner forehead that meet its beak at a more gradual angle. Southern California Common Dolphin Behavior Common Dolphins are very social, traveling in pods of up to 50 and will many times congregate with other pods to form schools that can range in the thousands. These schools have a tendency to be very active, jumping and playing together. When they are playing, they will often breach the surface of the ocean, and swim along the bows of ships on their wakes. They are incredibly fast swimmers, able to reach speeds of up to 25 miles per hour. They have also been known to travel with other dolphins and even whales. It is thought that they learned how to bow ride on the wake of ships and boats by riding the wake of larger whales. They are also very affectionate. They will take care of their sick and make friends with other dolphins, showing genuine affection for them. When a member of the group dies, common dolphins will display sadness and longing for their friend. The more mature dolphins will also take care of younger dolphins, acting as teachers and mothers will share responsibilities for the young.
Dolphin Sightseeing Cruises
The magnificence of common dolphins is no longer limited within the ocean realm. You can witness how entertaining and wonderful these creatures are by scheduling a dolphin sightseeing cruise today. Dolphin sightseeing is one of the most exciting adventures that marine lovers pursue. Admiring the waters and marveling at the wonders of marine life is not complete without a fantastic experience with one of the most intelligent and friendliest of the sea creatures we have known since childhood. Just choose the best dolphin sightseeing cruises in Long Beach CA to fully enjoy your adventure.
Close Interaction with Common Dolphins
Dolphin watching is the best choice for anyone who wants to witness entertainment in a different level. Imagine dolphins surfing and racing beside with you. That's how close you can get!  Our dolphin sightseeing cruises in Long Beach CA offer such a special experience since these animals are very social. They are known to travel in pods and our cruise staff can take you to spots where you can find these pods. Just picture pods of dolphins playing with you – that will surely be a whole lot of fun! When they play, they swim along boats and you can take photos of their play. So, when you spot a pod close to your boat, be ready to enjoy the experience. For those who will experience our dolphin sightseeing cruise for the first time, don't worry. Our guides will help you understand further how these marine mammals interact with people. It would not only be a fun activity, but will also be a chance to learn more about the behavior of common dolphins.
Try Our Dolphin Sightseeing Cruises in Long Beach CA
Our offered dolphin sightseeing cruises in Long Beach CA are convenient ways to spend your precious time with nature since booking a schedule is just a click away. Your adventure starts with scheduling a cruise trip and visiting the best spot to go for dolphin sightseeing – Los Angeles. People opt for Los Angeles for dolphin sightseeing because of the frequency of pods that ensures a worthwhile experience for our clients. Also, our guides are knowledgeable and they will help you learn more about the experience and the marine animals that you encounter, which in this case are the common dolphins.
Other marine animals that are commonly sighted in our cruise trips are blue whales, orcas, gray whales, bottle nose dolphin, humpbacks, fin whales, and harbor seals. We have a specific cruise for each of these marine mammals so we urge you to check out our cruise packages. One package that we have is the Gray Whale and Dolphin Cruise that will take you to an enjoyable adventure into the vast open waters of California for a maximum of 3 hours. This will give you the chance to observe the pacific gray whales. Not only that, our cruise include other marine life that the blue waters can showcase, such as those mentioned above. Even marine birds that rarely migrate in your community will be there. You can enjoy all these by hopping into one of our scheduled dolphin sightseeing cruises in Long Beach CA.
Call our hotline now at 310-547-9916.