Whale Watching in Oceanside, CA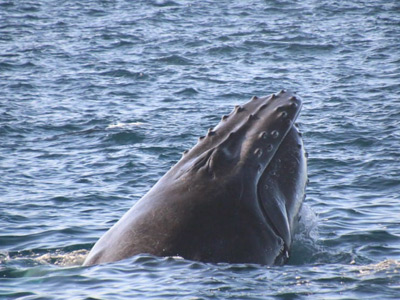 Nestled in the heart of Southern California, Oceanside, CA, is a coastal gem renowned for its pristine beaches, vibrant marine life, and a natural spectacle that captivates the hearts of both locals and visitors - whale watching.

This strategic location along the Pacific coast provides an exceptional vantage point for witnessing some of the world's most magnificent marine creatures in their natural habitat. Whale Watching in LA is the preferred whale-watching tour operator here, and we invite you to start an extraordinary experience with us.


The Perfect Setting for Whale Watching
With its sun-drenched shores and inviting waters, this beach beckons travelers seeking coastal bliss. Yet, it offers much more than just a beach getaway. The region's rich marine life and closeness to prime whale migration routes make this a natural magnet for whale watching.

One of the defining features of the local whale-watching experience is the rich diversity of whale species that grace its waters. Each season brings a different cast of these fantastic marine giants. Here are some of the prominent whales you can encounter here:


Gray Whales - This area becomes a pivotal point on the migratory route of gray whales during their epic journey. These gentle giants undertake one of the longest mammal migrations, passing through the waters to their breeding grounds in Baja California.


Blue Whales - The world's largest animals, blue whales, make a grand appearance during the whale watching season here. They visit the area to feed on krill, showcasing their immense size and breathtaking splendor.


Humpback Whales - Renowned for their acrobatic displays, humpback whales add an element of excitement to local whale-watching tours. You can protect their movements during their seasonal visits.


Orcas - While orcas, also known as killer whales, are not true whales, they are a captivating sight when spotted in these waters. These apex predators occasionally make appearances, showcasing their intelligence and social behaviors.


Why Choose Us for This Experience?
We understand that your whale-watching experience should be exceptional, and we have emerged as the preferred whale-watching cruise operator in the region. Here's why you should choose us for your marine adventure:


Expertise and Experience - Our seasoned captains and crew bring a wealth of knowledge and experience to your whale-watching tour. Their expertise ensures your safety and enhances your understanding of the marine life you encounter. With us, you're in the capable hands of professionals who are passionate about what they do.


Knowledgeable Cruise Tour Guides - Our tour guides are not just guides; they are naturalists who share their profound understanding of marine life with you. They'll enrich your tour with fascinating insights into the behavior, biology, and conservation efforts related to whales and other sea creatures.


State-of-the-Art Vessels - Your comfort and enjoyment are our top priorities. Our vessels have the latest technology and amenities to ensure a smooth and pleasurable journey. From spacious viewing decks to comfortable seating, we've designed our boats for an exceptional experience.


Prime Whale Viewing Locations - Whale watching is all about being in the right place and time. Our knowledgeable team knows these waters well. We take you to the best locations where the chances of spotting whales are excellent. Count on us for a wonderful experience watching these ocean wonders.


Book Your Whale Watching Experience with Us
We believe in making your whale-watching adventure as effortless as possible. You can book a spot on our tours online with ease. Plus, we offer affordable tour rates without compromising on the quality of your experience.

For information on our whale watching in Oceanside, CA services, please call Whale Watching in LA at 310-547-9916. You can also write to us using this Online Form, and we will contact you soon.