Blue Whales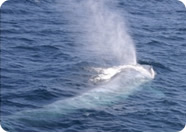 The magnificent Blue Whale is the largest animal to ever known to have lived on the planet. The Blue Whale can grow up to 100 feet long and weigh between 200,000 and 300,000 pounds! Blue Whales feed on 2 to 4 tons of krill(shrimp-like crustaceans) during feeding season. Blue Whales are an endangered species and we are very lucky to have a population of about 2,000 that come to the California coast every summer to feed.
It would be a waste of opportunity if we simply let these awesome creatures visit the California waters without seeing them. You can book for a blue whale sightseeing cruise now or invite your loved ones and close pals to enjoy this adventure. Don't worry if you have a limited budget since there are a lot of sightseeing cruises that offer great packages at affordable rates.
The Best Cruise Company for Whale Watching
If you are looking for the perfect place for blue whale watching, go for Long Beach in Los Angeles. But don't just pick any company offering special cruise trips for blue whale watching. Choose only the most trusted - Harbor Breeze Cruises. Among the blue whales sightseeing cruises in Long Beach CA, we are the best-rated and the most sought-after whale watching cruise company in the city. We offer various packages to give you an unforgettable whale watching cruise. Our boats offer comfort and convenience for all our patrons. It would also allow you to take pictures during the tour and keep memories of your adventure with these amazing marine creatures. Our well-experienced crews are always on their feet to assist you on your every need. We also have the perfect accommodation for you. With our complete tour packages, you will not only enjoy watching blue whales but also experience a hassle-free travel.
What makes our tour the best among other blue whales sightseeing cruises in Long Beach CA is the competitive rates that we offer. We even offer discounts for big groups, so don't forget to tag along your family and travel buddies! An unforgettable adventure with these marine mammals should not be expensive. Call us and we'll show you why we are the choice of many local residents and tourists when it comes to sightseeing cruises.
Schedule Your Blue Whales Sightseeing Cruise Now
The number of sightings of blue whales during summer and on other months varies. But with our lengthy experience in this field, we can assure you that you will be able to see this particular type of whale during your scheduled trip. We will bring you to areas where these creatures typically feed and wander. Knowing when and where these marvelous creatures could be found is the edge of Harbor Breeze Cruises. We know the best time of the day and the spots where these blue whales go and feed.
Visit us today or call our hotline to know more about our blue whale watching schedules. The best way to experience this adventure is to bring your friends and family. You can also book a trip in advance for a hassle-free tour. We highly recommend advance booking to help you push through with your dream get-away cruise for your entire family, friends or colleagues. Rest assured that our schedules are set on days where sightings are guaranteed. At Harbor Breeze Cruises, we always provide the best blue whales sightseeing cruises in Long Beach CA. Just browse our testimonials page and read the positive feedback from our highly satisfied clients. Call us at 310-547-9916 and let's sail!