KILLER (ORCA) WHALES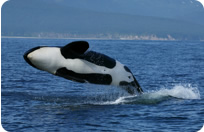 Orcas or killer whales are best seen in its natural habitat. However, you can only see these large marine mammals in certain areas in North America. Among the best places to go for killer whale sightseeing is Southern California. The vast coastline of the southern part of the state offers a perfect habitat for orcas. Some of these migrate from Mexico while some are transients from Monterey Bay. According to marine experts, the best time to look for this type of dolphin is during December and January. Now, you can have a close encounter with these mammals by booking a whale watching tour. There are a lot of companies in Long Beach that offer this kind of service but choose only a well-experienced cruise company like Harbor Breeze Cruises. Clients prefer us because of the unique and fun experience that we offer to our patrons. Try us and we'll show you why we are popular among local residents and tourists who want a close encounter with these orcas.
Our Killer Whales Sightseeing Cruises
Our patrons will surely enjoy our killer whale sightseeing tour regardless of their chosen package. We don't just charge client-friendly rates but also topnotch accommodation. Moreover, our boats are well-maintained and equipped with state-of-the-art telecommunication equipment. Every client will go home completely satisfied because of their memorable experience during the tour. Who would complain watching these killer whales catch their prey up close or doing dive-bys near our boats? Missing your planned killer whale sightseeing cruise will not happen since we have regular schedules throughout the year. We also set our schedules on days when orcas normally wander in the vast coastline of Los Angeles.
We are a legitimate cruise company operating in Long Beach CA. We have appropriate licenses and certifications from regulatory agencies and industry organizations. These credentials are proofs of our commitment to provide each customer a worry-free and fun sightseeing cruise. If these are the factors you are looking for in a cruise company, then we are easily the best killer (Orca) whales sightseeing cruises in Long Beach CA
Fun and Exciting Adventure Guaranteed
Why Choose Harbor Breeze Cruises for your planned killer whale sightseeing cruise? The answer is simple. We have the best package for killer (Orca) whales sightseeing cruises in Long Beach CA. Whether you are alone or with your family and friends, we will make your trip a memorable one. It will be a fun adventure and a learning experience for you. We also provide luxury-type accommodation without draining your pockets. Our courteous professional crews are marine experts so they can easily provide the right facts about these marine mammals. Their excellent communication skills make every trip a fun and enjoyable one for our patrons.
Are you excited to see these killer whales soon? Inquire now about our schedules and rates by calling 310-547-9916. You can also buy tickets using our online form to get discounts and other exciting perks. We also have special rates for senior citizens and children. Our affordable rates and the unique experience that we offer makes our  killer (Orca) whales sightseeing cruises in Long Beach CA the most sought-after in the region.
Info:Killer whales are actually not whales at all but are instead the largest species of dolphin! Killer whales are very social and very smart. Killer whales can be spotted quite easily as they have a black back and a white patch slightly above and behind their eyes. Killer whales, in part, developed their names because they have been known to hunt whales for their food. From a physical perspective, a killer whale has a rather heavy and stocky body and a very large dorsal fin. Female killer whales are generally smaller than male killer whales. Females can reach about 16 to 23 feet and about 2-4 tons and males can reach about 19 to 26 feet and about 6 tons. Killer whales are also very fast, mainly because of the killer whales size and its strength. They can reach speeds of about 40 miles per hour. The killer whale is very skilled predator. They are sometimes compared to wolves, because they hunt in pods like packs of wolves. And, they have quite an appetite as they can eat close to 500 lbs of food per day. Killer whales can live an average of about 35 to 40 years; females tend to survive longer than males. Killer whales have been known to survive for about 70 years. In captivity, a killer whale can only be expected to live less than 25 years.