BOTTLE NOSE DOLPHIN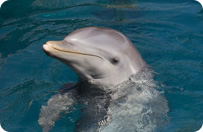 Bottle nose dolphins are among the most intelligent in the family of oceanic dolphins. They can be trained to detect sea mines and perform tricks, and have been observed to use artificial language. They were likewise found out to have the capacity to use tools to hunt for food, just like macaques. Flipper, the TV program which featured a highly intelligent bottle nose dolphin, helped shed light into the unique abilities of this dolphin specie and turned it into a household name. While they can be observed in captivity, interacting with them and seeing them in the wild is a much better way of appreciating their graceful movements and learning more about them.
If you want to see bottle nose dolphins up close, look for a sightseeing cruise company that can bring you to these awesome sea creatures. Good thing you have us at Harbor Breeze Cruises since we offer affordable bottle nose dolphin sightseeing cruises in Long Beach CA. Our tours are highly sought-after since we guarantee clients an unforgettable experience in the company of playful bottle nose dolphins. We can provide utmost comfort and safety throughout the tour, so everyone is sure to leave the docks all smiles. Call 310-547-9916 to book a tour or inquire about our rates.
Bottle Nose Dolphin Sightseeing Cruise
Our bottle nose dolphin sightseeing cruises in Long Beach CA is the best tour that you can possibly have. Every bottle nose dolphin sightseeing cruise is designed to ensure that tour participants will get as close as possible to these adorable creatures. Our budget-friendly tours are open for individuals, families, friends, and small companies. Moreover, we offer educational trips for schools and just about anyone who wishes to learn more about bottle nose dolphins while watching them in their natural habitat. The good thing about the tours we provide is that we only send knowledgeable guides, which helps us guarantee that participants will learn everything there is about bottle nose dolphins. Our crews can distinguish the three species of bottle nose dolphins: common bottle nose, Indo-Pacific, and Burrunan. You can expect to likewise learn bits of interesting facts about these dolphins, so you can appreciate them better.
Affordable Sightseeing Cruise in LA
When compared with other cruise service providers in Los Angeles, Harbor Breeze Cruises offers one of the lowest bottle nose dolphin sightseeing cruise rates. Our cruise packages start for as low as $35 per person for online ticket purchases. Walk-in adult clients, meanwhile, only have to pay $45 for weekday tours and $50 for weekend cruises. Senior citizens, on the other hand, will only shell out $40, while children aged 3-11 will pay $30. Best of all, children aged 2 and under are free of charge! These are rates that are truly hard to resist.
Call Us and Book a Tour Today
If you want to enjoy fun times with your family, friends, or all by yourself, our bottle nose dolphin sightseeing cruises are perfect for you. We're the go-to place for those who want an extraordinary bottle nose dolphin sightseeing cruises in Long Beach CA. We promise to make your entire trip fun, comfy, and educational, so you can bust away stress and have an unforgettable experience. Call our hotline and book a tour now.