FIN WHALES
Getting the Best Fin Whale Sightseeing Cruise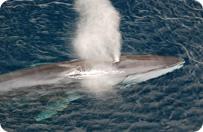 There have been many sightings of fin whales in the vast coastlines of Los Angeles. If you wish to get a glimpse of these gentle giants, go for a scheduled sightseeing tour. And if you're in the hunt for a company that offers great tour packages for fin whales sightseeing cruises in Long Beach CA, we are the perfect pick for you. Long Beach is incidentally the best area to start your trip since these whales have been seen frequenting its coastline. Our crews know the common spots where these extraordinary creatures are usually seen, so you have the biggest chance of getting up close to them.
It is interesting to note that there was once a time when fin whales nearly went extinct due to the extensive whaling activities that spanned almost a century. These whale species are known to frequent the coastline of Southern California, specifically around Los Angeles from October to July when they migrate between Mexico and the state of Alaska. During these months, you can expect to see not just fin whales, but also humpbacks, Orcas, blue whales, and grey whales as well. Our experienced guides will ensure that you'll get the most out of our tours in terms of service and the number and variety of marine species that you'll see during the cruise.
Why Choose Harbor Cruises for Your Planned Sightseeing Cruise?
While there are other tour operators in the same area that we serve, we at Harbor Breeze Cruises still offer the best tour package for fin whales sightseeing cruises in Long Beach CA. For one, we have more than 20 years of experience as a tour operator in Long Beach and nearby areas, which means that we've managed to satisfy guests with our offered services. Additionally, we employ the best people who can bring you to known fin whale areas, so you'll get to know them better and more intimately. Our crews include boat captains who are all certified by the US Coast Guard, while our deckhands are also highly experienced seafarers. Meanwhile, we have well-appointed boats that are equipped with modern navigational and communication equipment, as well as life jackets to guarantee a safe travel. Additionally, our boats have a limited bar and a snack bar to keep guests' tummies full throughout the trip. Moreover, there are kiosks near our docks where you can buy travel needs such as sunglasses, motion sickness pills, hats, and jackets. Our tours usually last up to three hours and tickets can be bought online or at our Dock 2 ticket booth. We have budget-friendly rates to choose from, plus we offer discounts for groups of 25 or more people, so we encourage guests to tag along their friends and relatives.
Book a Tour Now
Choose Harbor Breeze Cruises if you want memorable and fun fin whales sightseeing cruises in Long Beach CA. We urge you to book a tour today through our hotline 310-547-9916 or book online to avail our seasonal promos. We hope to see you in one of our tours soon.
Info:The Fin Whale is another one of the whales you can find when take one of our Los Angeles Whale Watching tours. Also known as the Razorback Whale is one of the largest animals on the planet. Other than the Blue Whale, no other animal can match the size of a Fin Whale. Fin Whales have been known to reach lengths of up to 90 feet and though one has never been weighed, it is estimated that they can weigh up to 77 tons. Fin Whales, even with their incredible size, have the appearance of being slender due their incredible lengths. They have a brownish gray color with a pale underside. Fin whales are also noticeable by their long dorsal fin which can be seen after the spout. When the Fin Whale surfaces, it will take multiple breaths and remain for 60 to 90 seconds. Their spouts can be up to 18 feet in height. They will then dive down to about 250 meters where they will stay for 10 to 15 minutes before resurfacing. Fin Whales are also very nimble and have been known to completely launch themselves out of the water. Southern California Fin Whale Population Like many other whales, fin whale populations were at one point decimated by whaling. Over a 75 year period, about three quarters of a million Fin Whales were killed by whalers, leaving the current population at about 35,000. Though whaling moratoriums have been passed, there are still a few countries that continue the practice. Passing ships and noise pollutions are still another enemy of the Fin Whale and continue to threaten their prosperity.