HARBOR SEAL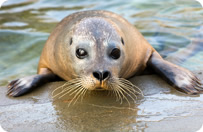 Info:The Harbor Seal or the Common Seal, are found in the northern Atlantic and the Pacific Oceans. They are also found in the North Seas and the Baltic region. There are a number of Harbor Seals who routinely rest on the rocky shores in Long Beach, California. The Harbor Seals are considered pinnipeds, or a fin-footed animal. Harbor Seals are in the same family as walruses, eared seals, and true seals. Generally, Harbor Seals are brown or gray in color and have nostrils in the shape of a V. The adult Harbor Seal can grow up to about 6 feet long and up to about 300 lbs. Female Harbor Seals will generally outlive the male Harbor Seal by about 10 years living to the age of 35. Southern California Harbor Seal Population Harbor Seal are not an endangered species with an estimated global population of about 400,000 to 500,000, however there are some subspecies who are threatened, particularly in the Greenland, Hokkaido, and Baltic Sea regions. For the most part, seal hunting has been made illegal, with some exceptions. However, there is still a problem with seals getting caught in fishing nets. Sometimes Harbor Seal are actually targeted by fishermen as they are seen as a threat to fisheries. 
More Interesting Facts about Harbor Seals
Adult harbor seals hardly interact with fellow seals, unless during mating season when they tend to be extra attracted towards the opposite sex. It's important to note that they can be extremely aggressive when touched by another seal, which they show by snorting, biting, growling, or scratching. They do, however, show a certain degree of tolerance when they are with fellow young seals but exhibit opposite behavior when in the company of adult seals. They also haul-out usually during afternoons or evenings on beaches and rocks. Hauling out is when the seals are on land, when they rest, eat, socialize, or mate. They are always on the lookout for potential predators and once they sense danger, they immediately go back to the safety of the water. Moreover, harbor seals regularly haul out in two specific sites where they usually feel the safest. Finally, they do share their haul-out spots with other pinniped species such as Northern elephant seals and California sea lions. You can learn more about the unique characteristics of these mammals by trying our harbor seal sightseeing cruises in Long Beach CA.
The Best Harbor Seal Sightseeing Cruise in Los Angeles
For those who wish to experience harbor seal sightseeing cruises in Long Beach CA, our company offers guaranteed sightings of these extraordinary creatures. Our knowledgeable crews can bring you to areas where these harbor seals gather and perform their daily routines. This way, you can better understand their behavior as individuals and collectively when they belong to a group. We will maintain a safe observation distance from their known haul-out sites to avoid threatening them and making them flush back to the safety of the water. We will likewise turn off the boat's engine to avoid alarming the harbor seals from where they're staying at. During the trip, you can expect to see other sea mammals such as whales, dolphins, eared seals, walruses, and true seals. Our cruise personnel can provide fun facts and in-depth details about these creatures so you can appreciate them and learn a lot about them. At the end of the trip, you will surely leave with a deep appreciation of the various sea mammals that you will see throughout the cruise.
Enjoy and Have Fun with Our Sightseeing Cruises
For our guests, we normally tell them to bring their entire family, close friends, or colleagues to make the trip more fun and memorable. We offer a unique experience in all our harbor seal sightseeing cruises in Long Beach CA, so you will surely get your money's worth. One thing that sets us apart is just how budget-friendly our cruise rates are. In fact, our ticket prices are among the best when compared with other sightseeing cruise providers in Los Angeles. Add to that our well-appointed cruise boats and knowledgeable staff and you get a truly exceptional package.
Book a tour now by calling our hotline number 310-547-9916. Our friendly staff will also help you choose the best schedule for your planned sightseeing cruise. Try our services now and let us prove to you why are considered as the best company for harbor seal sightseeing cruises in Long Beach CA.